UN Special Rapporteur on Torture Asks States to "Stop Condemning Torture while Accepting its Products"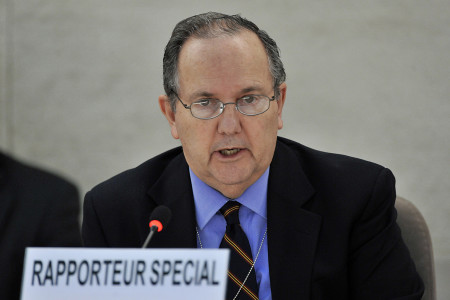 In an important contribution to the understanding of the actions states must take to prevent human rights violations, the UN Special Rapporteur on torture, Juan E. Méndez, has urged governments to stop condemning torture committed at the international level while condoning them at the national level.
During the presentation of his latest report to the UN Human Rights Council, Mr. Méndez emphasized the importance of "removing any incentive to undertake torture anywhere in the world" as the clear objective. He further warned that "the use of torture-tainted information is considered an act of acquiescence" since it may lead to complicity in cases of torture and other ill-treatment.
In his report, the Special Rapporteur highlights that by allowing the collection, sharing and receiving of torture-tainted information to take place between States during intelligence gathering or covert operations, "some states have diluted cardinal principals necessary for preventing and suppressing torture and ill-treatment." He firmly regrets the refusal of States to "subject the work of their intelligence and security agencies to scrutiny or international oversight" since such refusal has led to the erroneous impression that those actions are not subject to international law.
In a crucial effort to clarify misconceptions, he notes it is simply not enough to ensure that the judicial process be free from the taint of torture. To effectively prevent torture, Mr. Méndez highlights three key rules States must follow: (1) States must not condemn torture committed by others while accepting its products; (2) States must refrain from allowing torture-tainted evidence in judicial proceedings; and (3) torture must not be encouraged, condoned, or accepted in any of the branches of power.
I thank Mr. Méndez for this groundbreaking and important information, and ask the international community to further codify these rules and incentivize States to abide by those key principals.