Latest Report on Iran Examines Economic, Social and Cultural Rights in Addition to Civil and Political Rights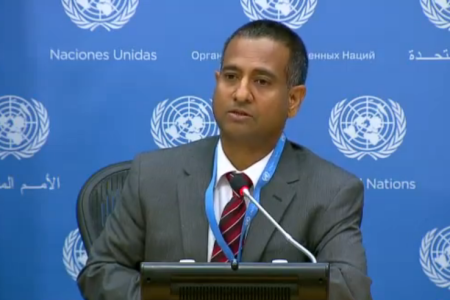 Next week, I will officially present to the 69th session of the United Nations General Assembly my seventh official report on the situation of human rights in the Islamic Republic of Iran. My new report details developments since the release of my last report in March 2014. You will be able to watch my presentation to the UNGA on Tuesday, here on my website.
Among my findings:
Between July 2013 and June 2014, at least 852 individuals were reportedly executed, representing an alarming increase in the number of executions, even in relation to the already-high rates of previous years. The figure includes many individuals executed for crimes not meeting international standards of "most serious," including sodomy and political and cultural expression or activism.
66 per cent of Iranian women have reportedly experienced domestic violence, and Iran lacks a sufficient legislative framework to combat such offenses.
As at June 2014, at least 300 minority religious practitioners were reportedly imprisoned, including three active members of the Yarsan faith, in addition to Sunnis Christians, Bahai'is, Sufis, and members of newer spiritual movements.
The percentage of female students entering university has decreased from 62 per cent in 2007-2008 to just 48.2 per cent in 2012-2013, following the institution in 2012 of gender-rationing policies.
During its first review of its human rights record by the United Nations Human Rights Council in 2010, Iran accepted 13 recommendations regarding freedom of opinion and expression. However, as my report details, at least 35 journalists are currently in detention in the country and reports continue to allege the harassment, interrogation, surveillance of many others, including several who were arrested or sentenced over the past few months.
At this time, laws, policies and institutional practices in Iran continue to undermine the conditions needed for the realization of the fundamental rights guaranteed by international and national law. I believe that Iran possesses the basic tools necessary to address a wide range of recurrent human rights concerns raised by the international community and I encourage the Iranian government to take necessary measures to address the issues outlined in my report. In accordance with my UN mandate, while I continue to document human rights violations, I remain ready to work with Iranian authorities to improve the human rights situation.