Human rights and Iran's willingness to earn International trust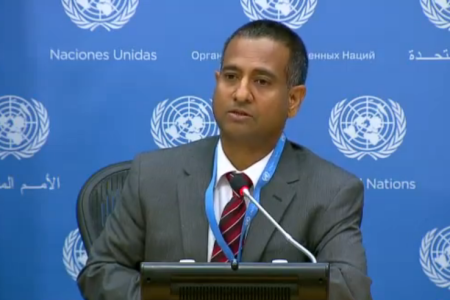 In his speech to the UN General Assembly on September 28 Iranian President, Hassan Rouhani, reached out to the international community in a renewed effort to demonstrate that Iran is ready to strengthen its engagement as a constructive  and reliable member of the international community. He cited favorable political, economic and social indicators of progress in Iran, despite years of multilateral and unilateral sanctions imposed on the country, and Tehran's willingness to reach a respectable agreement with the P5+1 members on the resolution of the nuclear issue. President Rouhani's speech did not, however, reference the human rights situation inside Iran.
To be sure, the nuclear agreement is a watershed moment for Iran and its international partners, a great achievement for President Rouhani and his administration, and an indicator of Tehran's willingness to seek a peaceful resolution to a longstanding conflict. I have acknowledged this, and congratulated all parties to the negotiation, and especially Iran, for reaching an agreement on Iran's nuclear programme. I am particularly hopeful that the lifting of economic sanctions will have a beneficial "multiplier effect" on the enjoyment of economic, social and cultural rights in the country.
But I also firmly believe that in order to truly gain the trust of the international community, Iran must honor its human rights obligations. Respect for the rule of law requires not only diplomatic acumen in resolving international disputes, but it also necessitates addressing the most fundamental concerns of your citizenry. It requires not only transparency in allowing inspectors to visit nuclear sites in the country, but also increasing cooperation with UN rights bodies and experts. The agreement creates a golden opportunity for President Rouhani and Iran's leaders to address the troubling human rights situation in the country. President Rouhani and his administration can play a key role in advancing the cause of human rights in Iran by taking concrete steps to fulfill his presidential campaign promises, including the enactment of a Citizen Rights Charter.
As I said on July 15 after the agreement was reached, "now comes the time to focus on human rights in Iran." I urge the Iranian government, therefore, to also extend its efforts to advance improved protections for the human rights of the Iranian people. Protections that can only help to amplify the benefits gained from the lifting of sanctions in the coming months.   
Tags: Hassan Rouhani, Iran Deal