Incarceration and violence against women linked in Iran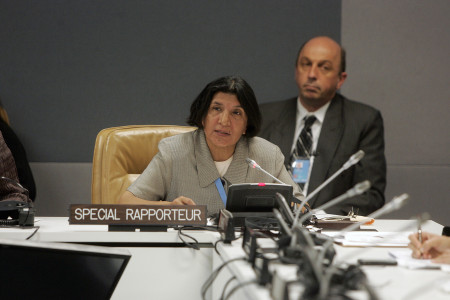 Recently Professor Rashida Manjoo, the United Nations Special Rapporteur on violence against women, introduced an important report to the UN General Assembly. The report, Pathways to, conditions and consequences of incarcerations of women, illustrates that across the globe there is a strong link between the incarceration of women and violence against women, with violence often taking place prior to, during, and/or after incarceration. This link results in certain sentencing patterns having disproportionately negative effects on women, and in specific forms of violence, including in Iran. The report cited an urgent appeal from July 2008 in the case of a woman sentenced to death by stoning for adultery when the man who murdered her husband served only a prison term:
…the case of an incarcerated woman in the Islamic Republic of Iran clearly illustrates the link between prior violence and crime, and also the disproportionate punishment often meted out to women. The woman was a victim of domestic violence and was forced into prostitution by her husband. One of her clients killed her husband, and the woman was convicted of adultery and of being an accomplice to murder. The male client was sentenced to an eight-year prison term and the woman was sentenced to death by stoning.
I was very interested to see Professor Manjoo's report also highlight the plight of women in Iranian prisons. She raises concern over the arrest of women activists and the torture and cruel, inhuman, and degrading treatment of incarcerated women in detention. She notes the use of violence, including sexual violence, in women's detention centers. Her report included the case of a female prisoner in Iran who committed suicide in July 2011 after being violently beaten in detention, including with electric batons.
In addition to urging that states address the structural causes that contribute to women's incarceration—through social, economic, health, educational and justice policies—Dr. Manjoo implored states to act with due diligence in response to all forms of gender-based violence. She also called upon member states to uphold the Tokyo Rules on the treatment of prisoners and to "develop gender-specific sentencing alternatives" as part of the Bangkok Rules for the treatment of women prisoners.
These recommendations should be heeded by all countries, including Iran.