LGBT Cases Supporting the Special Rapporteur's March 2013 Report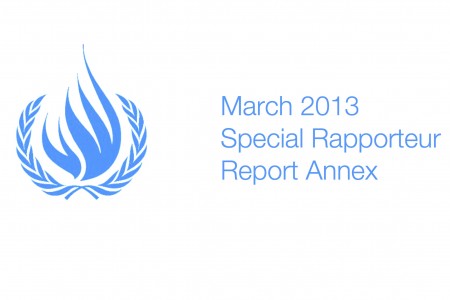 This supplement provides documented cases of detained members of the LGBT community that served as part of the basis of Dr. Shaheed's March 2013 report presented to the UN Human Rights Council. The documentation is based on primary interviews and secondary research conducted for the March 2013 report (Click here for the full report supplement).
Report Supplement
February 28, 2013
VII. Lesbian, Gay, Bisexual, and Transgender
44. An anonymous source reported that he was imprisoned twice for activities related to his sexual orientation. He maintained that in the first instance, a Government agent entrapped him by posing as another gay man on a gay dating website. It was reported that the source was physically abused and strip-searched, that he was detained for several days without contact with family, that he was coerced to sign a document that he had engaged in "Tafkhiz" (non-penetrative sex) with other males, and that he was verbally abused by a judge who sentenced him to 100 "hadd" lashes on his torso and appendages, some of which were reportedly applied. The source was arrested again at an airport with a group of friends after dropping a friend off there. The group of men were charged with "the creation of a prostitution center to facilitate the occurrence of sexually illegal activities" and with "committing sinful acts like cross-dressing, wearing makeup, and lustful kissing". They were then brought to prison for 12 days, where they were allegedly kept in unsanitary and cramped conditions, and the source was eventually issued a flogging sentence. The sentence was later dropped, and he was released on excessive bail. The source's parents used their property as collateral for their son's release. He has since left the country.
45. An interviewee reported that he was beaten by his father and punished by school administrators because of his "effeminate" behavior. He maintained that he suffered from depression as a result of his constant abuse, and could not remain gainfully employed. In 2007 the source attended a party primarily for gay men in his town. He asserted that the party was raided by plainclothes officers, who reportedly forced the attendees to lay down with their hands behind their backs and poured alcohol the officers allegedly brought on them, while stepping on them and beating them with batons and glass bottles. The source maintained that dozens of the attendees were taken to the local Intelligence center, were verbally humiliated, strip-searched, and forced to sleep on the floor of their cells before being transferred to a prison where they spent 4-5 more days. They were allegedly kicked, strip-searched, verbally humiliated, kept in an overcrowded cell, and asked humiliating sexual questions by interrogators there. The source was sentenced to two years' imprisonment for "facilitating and organizing a party in which alcohol is consumed and immoral acts are performed", despite the source's claim that there was no alcohol at the party. When the story became public, employers would not hire him, or would fire him when they connected him with the story. The source has since left the country.
46. The witness attended the same party as the previous source. He separately reported that agents raided the party, ordered all attendees to the ground, and stepped on them with boots, while beating some with batons. The source was taken to the same detention facility in handcuffs and a blindfold, and slept on the floor with co-detainees. He was brought before a judge, who insulted him. He received a fine sentence, and was released; he believes he was not detained for as long as the others because he denied knowing that the party was for gay men or being gay himself. He has since left the country.
47. A source reported that as a child, teachers corporally punished him for behavior they considered "effeminate", and his principal called his parents to complain. As a teenager, male children in his neighborhood gang-raped him. He did not call the police because, as he claimed: "I live in a society in which the police do not protect me. On the contrary, the police come after people like me". As a young adult, the witness was arrested on four occasions by local police in a park known for gay encounters. Each time, they told him to sign a pledge to act "appropriately" before being released. He was arrested by different officers each time, but believes that if he had been tagged as a multiple offender, the consequences would have been more severe. He has since left the country.
48. The witness, a Kurdish F-to-M transgender man, maintained that he was constantly beaten by his father for behavior that his father considered "un-feminine". He did not go to the police, because "as [someone legally considered a girl], my father could legally do anything he wanted with me". After one year under de facto house arrest by his father, the witness returned to school, but plainclothes officers detained him one night when he was with his female romantic companion. The officers noticed on his ID that he was legally a female, and brought him to a female prison, where they verbally humiliated him and physically touched and searched his genitals and breasts. He was forced to sign a pledge that he would dress and act "correctly" as a woman as a condition for his release. He has since left the country.