Censoring the Commons: Internet freedom curtailed on Wikipedia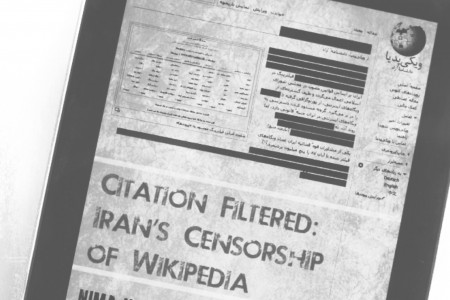 As I shared in my post last week, Iran's culture minister, Ali Jannati has urged authorities to unblock social media networks in the country. As it stands, many popular sites – including Facebook and Twitter – are widely used by government officials but remain banned for Iranian citizens. Jannati is calling for all social media networks to be accessible and I couldn't agree more.
In my latest report to the UN General Assembly, I referenced data that was released in a new report this week examining the extent of Internet censorship in Iran. "Citation Filtered: Iran's Censorship of Wikipedia," released by the Iran Media Program at the University of Pennsylvania's Annenberg School of Communications and the Human Rights in Iran Unit at the City University of New York's Brooklyn College, tackles the censorship of Persian-language articles on Wikipedia.
As I've noted, authorities block some five million websites in Iran. What makes censoring Wikipedia particularly interesting is the amazingly open nature of the website, where anyone can post or edit any article. This is an encyclopedia that is both a form of expression and source information. It's also become a part of many peoples' lives as a first-stop shop for information on almost anything, and that's true for Iranians as much as anyone. In fact, with 360,000 users, Persian ranks sixteenth in use among the Wikipedia languages. So censoring it really speaks to the limits of Internet freedom in Iran.
Through an examination of this report, I learned that 963 Persian-language articles are effectively blocked in the Islamic Republic of Iran.  Most troubling is that much of this censorship – ironically – removes criticism of Iran's human rights record from Wikipedia.
Moreover, the vast majority of the 963 censored Wikipedia pages contain speech that is protected by Article 19 of the International Covenant on Civil and Political Rights guaranteeing freedom of expression and access to information through the Internet and other media. These article pages covered a broad range of topics including Wiki-entries about the Baha'i Faith, stoning in Iran, and a biography of filmmaker Jafar Panahi, who has a looming prison sentence.