Report of the Special Rapporteur on violence against women, Rashida Manjoo (2013)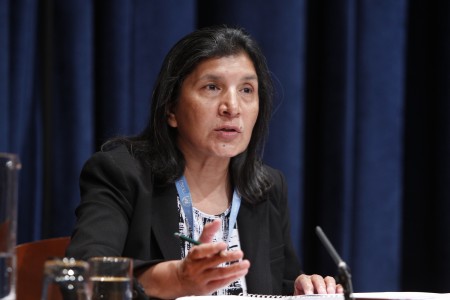 This report, published 21 August 2013, contains the findings of the Special Rapporteur on violence against women, its causes and consequences, Rashida Manjoo, and illustrates that there is a strong link between violence against women and women's incarceration, whether prior to, during or after incarceration.
Many countries are witnessing a significantly disproportionate rate of increase of women being incarcerated. Throughout the world, women prisoners face similar human rights violations relating to the causes that lead to their imprisonment, the conditions they face in prison and the consequences of their incarceration.
Excerpts from the report related to the Islamic Republic of Iran are copied below. Click here for the full PDF of the report. 
———
II. Pathways to incarceration
A. Presence of violence
8. Women in a prison in the former Yugoslav Republic of Macedonia revealed how severe partner abuse was linked to the crimes they committed, and that they felt safer once they entered prison. A recent Government-sponsored report in the United Kingdom of Great Britain and Northern Ireland has corroborated findings of high rates of prior abuse, noting that one in three women in prison has experienced prior sexual abuse. An urgent appeal regarding the case of an incarcerated woman in the Islamic Republic of Iran clearly illustrates the link between prior violence and crime, and also the disproportionate punishment often meted out to women. The woman was a victim of domestic violence and was forced into prostitution by her husband. One of her clients killed her husband, and the woman was convicted of adultery and of being an accomplice to murder. The male client was sentenced to an eight-year prison term and the woman was sentenced to death by stoning (A/HRC/11/6/Add.1).
H. Political activities
28. In many countries, women's political activism has given rise to arrests and detentions. A recent report on the Islamic Republic of Iran refers to interviews with former women prisoners of conscience who were arrested for a number of reasons, including political affiliation, which can include affiliation with political opposition, women's rights activists, student bodies, NGOs, members or defenders of the lesbian, gay, bisexual and transgender community or defenders of the rights of religious minorities; individual activities related to journalism, the media, blogging and human rights advocacy; participation in demonstrations or other forms of activism; religious crimes, including affiliation with unrecognized minorities; and violations pertaining to laws linked to dress codes (hijab).
———
III. Conditions of incarceration
A. Violence
38. A recent study uncovered cases of rape of female political prisoners in the Islamic Republic of Iran throughout the 1980s, including the rape of young virgin girls before execution, forced marriages and other forms of sexual violence, some of which continues today. In July 2011, a female prisoner committed suicide after violent beatings, including with electronic batons. The Special Rapporteur on the situation of human rights in the Islamic Republic of Iran states that a prisoner alleged that prison guards tortured her by subjecting her to sleep and toilet deprivation, keeping her in a standing position for hours, burning her with cigarettes, exposing her to extreme temperatures for extended periods of time and punching, kicking and striking her with batons (A/67/369, para. 27).
41. Severe psychological abuse is used in the Islamic Republic of Iran to extract details of prisoners' sexual relations and, under threat of public disclosure blackmailing them to confess to charges of espionage. Other tactics are intimidation, verbal abuse during interrogation and branding the victim as illegitimate, or being born as a result of or practising prostitution.